Studio General Information
Back in 1988, Bob's first 'voice recording studio' consisted of a 2 track reel-to-reel recorder and a microphone, where the 'announcer booth' was his wife's walk-in closet in the master bedroom of their rented duplex (all the clothes created excellent isolation and noise reduction!) and there was a tremendous amount of running back and forth to operate the tape machine's transport controls in the adjacent room.
Through the years, Bob's recording environment and equipment have changed dramatically! Now, his studio offers ultra high resolution computer based digital recording, editing, and mixing, an array of microphones, preamps, and mastering level processing. Like many other voice performers and musicians, Bob's studio is an acoustically remodeled room in his home with a high level of sophistication, making it perfectly suitable for the needs of his clients.
Major Equipment
Microphones – Sanken CU-44X, Microtech Gefell 92.1S (Oliver Archut – TAB Funkenwerk Mods*), AKG C-414 B-ULS (Jim Williams – Audio Upgrades Mods*), (2) CAD E-350 (op amp mods*), (2) CAD Original E-300 (op amp mods*), CAD M-179, CAD M-177, CAD Equitek II, (2) Shure Beta 27, Crown PZM (capsule and electronic mods*), Audio Technica 4047-SV.
Preamps – (2) Studio Technologies MicPreEminence Second Edition (Jim Williams – Audio Upgrades Mods*), Altec 438A (Eddie Ciletti – Manhattan Sound Technicians Mods*), RCA BA-1A (2), RCA BA-21A (1) (Fred Walker Restoration and Mods*),  Symetrix SX-202 (Jim Williams – Audio Upgrades Mods*).
Computer Digital Interface – Lynx E22.
Computer/DAW – Acon Acoustica, Adobe Audition 3.1 and 6, on PC running Win10.
Processing – Wheatstone Vorsis M1 Digital Microphone Processor, (2) dbx Quantum Digital Mastering Processor, SPL Model 9629 De-Esser (op amp mods*), Symetrix 602, (2) dbx 902 de-essers, Valley International 415.
Phone Patch – Symetrix TI-101.
Audio Software Plugins – Melda, Voxengo, Izotope, Waves, Acon, Boz Labs, Toneboosters, DMG, Weiss.
*Hey Bob, What's up with these "mods?"
"Mods" or modifications to manufacturer designs have been implemented in every piece of my front end equipment.  From simple component level upgrades to the re-working of circuitry, these changes seek to improve on the design and component choices made by the original manufacturer.  In practically every piece of equipment (with the possible exception of some "no compromise" high end boutique equipment), certain compromises are made in circuitry and components…it's pure economics that dictate these decisions on the part of equipment makers.  Every modification I have ordered in my equipment is meant to eliminate these compromises and dramatically improve the performance of the equipment, which results in much lower noise, cleaner sound, and more detail in the final recordings.  Engineers such as Jim Williams of Audio Upgrades (www.audioupgrades.com), Oliver Archut (now deceased, sadly) of AMI/Tab Funkenwerk (www.tab-funkenwerk.com), Eddie Ciletti of Manhattan Sound Technicians (www.tangible-technology.com), and others have extensive ability to refine the performance of gear for those of us who crave audio perfection.
Also, if you find yourself in need of service on your AKG Microphones or Headphones, Richard Land of Land Audio Services in Hendersonville, TN is the man.  (www.akgmicrepair.com)
Available Disc, Tape, and Soundfile Formats
Media – CD, DAT, reel to reel, cassette
Soundfiles – .wav, .aif, .mp3, and dozens of others.

Phone Patch, Skype, and IP-based Communications for Direct High Fidelity Digital Voice Transmission
Phone patch, for many years, has been the most common way for those outside the studio to connect with those inside the studio. It's quite easy, and since pretty much everyone has the hardware (a phone!), and it makes for a quick solution to being able to monitor and direct recordings.
As the years have passed, other solutions have emerged. Skype (and similar programs) gave us the opportunity to connect face to face, and with higher audio quality than phone patch. It made the world much smaller.
Solutions also emerged which made it possible to stream high fidelity audio directly to the requestor, without the need for the voice talent to record on their end. In the studio world, ISDN has been used for years. Sadly though, it's a relatively expensive solution requiring hardware on both ends, and a digital connection which has become nearly impossible to obtain today.
In the professional audio software world, Source Connect, AudioTX, SessionLinkPro, IP/DTL, BodalgoCall, ConnectionOpen, CleanFeed, and several others emerged as computer/IP based solutions to direct digital audio transmission through the web.
But there are a host of very good, and FREE, applications that can perform the same task.
Today, with the continuing development of the WebRTC standard (whose tools are built directly into browsers like Firefox and Chrome, allowing nearly configuration-free experience), and the inclusion of the Opus audio codec in that standard, we are connecting with greater ease and higher fidelity than ever before, right in the browser!
Extended features (such as multiple codecs) and control (such as being able to bypass echo cancellation and noise reduction) are available in SIP based software such as Blink, Jitsi, Jami, Zoom, PhonerLite, qTox, Linphone, and MicroSIP.  Two of these programs allow me to leverage my fiber optic internet connection and transmit UNcompressed PCM audio through the internet in real time, something I once thought would never be possible.  Having a SIP Address is mandatory to use these programs, and there is some minor configuration required, but once you are set up, the rest is easy.
What all of this means is there are a number of ways that I can transmit full fidelity digital audio to you via the web in real time as you direct me.  On your end, you capture or record the output.  In this way you get the audio you need, supervised and directed by you if necessary, as if I were right in your office, right now.  My studio is, quite literally, connected to your computer.  It's a truly remarkable and beautiful thing.  I do this with multiple clients every week from countries around the world.
I should note that I use a Wheatstone Vorsis M1 Digital Mic Processor as the front end of these transmissions, so that the audio you receive requires very little treatment and can be used immediately.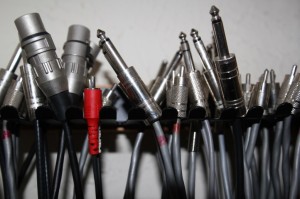 Other Dallas Recording Studios for Voiceover
Sonic Media Inc. in Parker, Texas is a full-service recording studio specializing in the creation of high quality soundfiles for use in the multimedia/CD-ROM world. If you've ever been forced to work with noisy, grainy, inaudible soundfiles, you will deeply appreciate Sonic Media's ability to create extremely high quality soundfiles in practically every file format that you can imagine. In addition, Randy and Pam Copus (the owners) are two of the most helpful, friendly, easy to work with and EXPEDIENT studio professionals you will ever encounter.
Dallas Audio Post is one of the premier locations for voice recordings and demo production in the DFW area.  Ask for Roy Machado.
CakeMix Recording – Bruce Faulconer has a beautiful full-service studio that is well suited to recording either spoken word or music productions.
AMS Productions – AMS is a showplace, and definitely one of the most sophisticated production facilities in D/FW.
No matter what your audio recording needs, there is a studio in the area staffed and equipped to handle the job.